We are an interdisciplinary design studio creating positive social and environmental actions for corporations, governments, and communities. Our current projects involve the
Visit our archive to see our past projects.

Hyperborder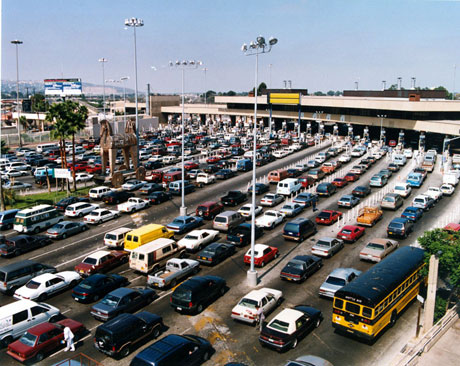 Crossing the border between Tijuana (above) and San Diego, California.
Work Worth Doing collaborated with LAR/Fernando Romero to research and design a book called
Hyperborder
. This study begins at the global level before narrowing down to the U.S.-Mexico border, the world's most contrasting and dynamic border region in the world. The book presents a brief summary of the U.S.-Mexico border region's recent history providing a much-needed context for a detailed portrait of the many unique issues the two countries face today. Using current economic, political, social, and environmental trends,
Hyperborder
presents future scenarios—both positive and negative—for the border at the midway mark of the twenty-first century.
Support Work Worth Doing by buying a copy of
Hyperborder
.

'new visions for the future of the U.S.-Mexico border' blog

I am pleased to inform you that Metropolis magazine is doing an update profile of their 2006 Next Generation awards winners and finalists. Hyperborder was a finalist in that year's competition. Look for the December, 2007 issue of Metropolis to learn more.
Posted: October 12th, 2007 by Alex Quinto under new visions for the future of the U.S.-Mexico border, What's new?.
Comments: none

An article on today's New York Times reports on the growing number of American operated farms in Mexico due to labor shortages and the inability of the U.S. Senate to pass legislation that would allow the estimated 2.5 million Mexican farmers to work legally in the U.S. Steve Scaroni, a farmer in California has already […]
Posted: September 5th, 2007 by Alex Quinto under new visions for the future of the U.S.-Mexico border.
Comments: none

Recently, an LA Times article reported on a border security that called for 700 miles of fencing, 300 miles of vehicle barriers, 23,000 Border Patrol agents, 105 ground-based radar sensors, and four unmanned planes was stalled at the U.S. senate.
Posted: August 2nd, 2007 by admin under new visions for the future of the U.S.-Mexico border.
Comments: none