We are an interdisciplinary design studio creating positive social and environmental actions for corporations, governments, and communities. Our current projects involve the
Visit our archive to see our past projects.

Proposal for civic participation in Madrid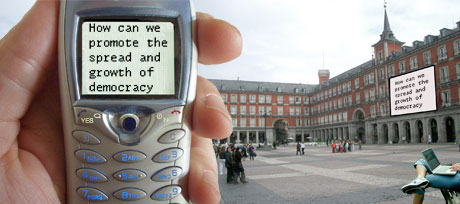 Illustration of proposed civic forum in Plaza Mayor, Madrid.
For the occasion of the first anniversary of the terrorist attacks in Madrid, Work Worth Doing presented a proposal to the International Summit on Democracy, Terrorism and Security with the purpose of bringing people together to discuss democratic solutions to terrorism.
We thank Kim Campbell, at the Club of Madrid, for considering our proposal and Professor Richard Simeon for advocating on our behalf. We also thank the 2004 students of the Institute without Boundaries for conversations about terrorism and brainstorming ideas and solutions. And for lending our idea the capacity to be realized, we thank Enrique Martinez, Professor of Design at Rhode Island School of Design and projection artist who partnered with us in the ambition to take messages from the citizens of the world and project them in a major public square.

'promoting democracy' blog

Next August 20-21 and within the framework of this year's summer courses at the Universidad Internacional Menéndez Pelayo (UIMP), in Santander, Spain, the Club of Madrid is organizing a workshop entitled Energy and Democratic Leadership: Promoting Access to Energy for Poverty Reduction.
Posted: August 2nd, 2007 by admin under promoting democracy.
Comments: none