We are an interdisciplinary design studio creating positive social and environmental actions for corporations, governments, and communities. Our current projects involve the
Visit our archive to see our past projects.

Let's encourage the greening of Wal-Mart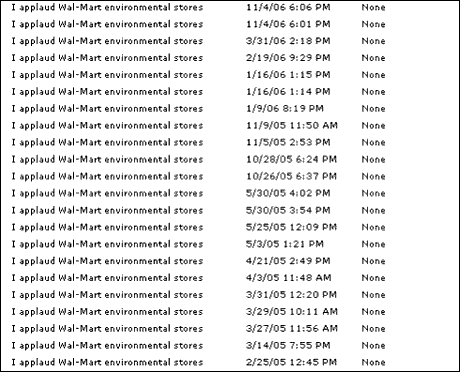 Over fifty e-mails were sent to Wal-Mart through our site.
Imagine if Wal-Mart used its famous buying power to bring green building materials and products to Wal-Mart Eco Stores worldwide. Wal-Mart could change the world, again. After learning about Wal-Mart Eco Stores, Work Worth Doing set up an email campaign encouraging our website visitors to support Wal-Mart's greening efforts. Within a one-year period, over fifty e-mails were sent to Rob Walton, the Chairman of the Board of Wal-Mart and the son of Sam Walton the guy who started Wal-Mart in the first place encouraging to open more eco stores.
The most recent announcements made by Wal-Mart indicate that the giant corporation is going green through its various practices: from energy conservation, to transportation, to procurement practices. We do not claim credit for Wal-Mart's recent sustainable initiatives, but we'd like to think your emails made a tiny contribution.

'encouraging the greening of Wal-Mart' blog

Wal-Mart has announced it will require 30 of its suppliers to report on the greenhouse gas emissions produced in the manufacture of their products. It is also establishing a labeling program that reports on the amount of carbon involved in the making of the products. Read the full Financial Times article.
Posted: October 24th, 2007 by Alex Quinto under encouraging the greening of Wal-Mart.
Comments: none

An article in USAToday reports several green initiatives developed by the world's largest employer. For example, Wal-Mart is the largest purchaser of organic cotton in the U.S. See the article here
Posted: August 2nd, 2007 by admin under encouraging the greening of Wal-Mart.
Comments: none